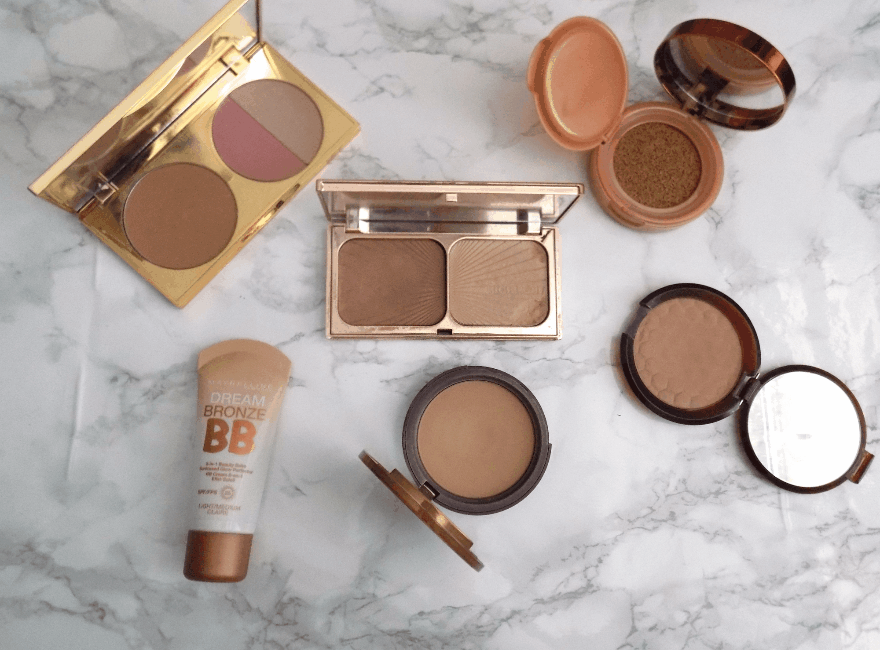 It's day two of
Summer Edit Week
- although the weather in the UK is the opposite of Summer - I am talking all about Bronzer today. I have become a massive advocate of using bronzer on the daily, even if I'm not wearing makeup, as I just feel it makes me look alive. So I thought I would share with you my favourites, my go to's that never fail me.
Starting off with the
Maybelline Dream Bronze
, this
is a cream/liquid bronzer, and these have become very popular over the last year or so.
Benefit, L'Oreal, NARS
and others have released their version and I have to say, they're pretty awesome. Liquid bronzer is great for mixing into foundations, moisturisers, but also can be applied before or after foundation for a natural bronze effect. This one in particular blends out to barely anything but it still makes your skin look sunkissed.
To go along with the liquid bronzer trend, the newly released
L'Oreal Glam Bronze
is a new one on the market which is a cushion bronzer. The liquid bronzer is soaked into a sponge and you can apply it using a brush, sponge or the little puff that it comes with. The only thing I find with these is that they are very orange toned, but I still love how natural and glowy they look on the skin. This one lasts all day and my preferred way of applying it is with a
Beauty Blender
before I apply my foundation so it looks as natural as possible. The
Maybelline
one blends out to practically nothing so you have to apply a couple layers for an intense bronze, but the
L'Oreal
one, well that packs a real punch in the pigment department which is why I prefer to use it under foundation.
The most common bronzer is a powder formula. The first one I want to speak about is the
Tarte Park Avenue Princess Bronzer
the one I have is
in a palette but it can also be purchased on it's own. It's quite a orange/red bronzer but it does a great job at warming up the complexion. I particularly like this in the Summer as it's quite dark and so great when you have a tan. I find using the
Real Techniques Duo Fibre Stippling Brush
is the best tool to apply any bronzer. It applies just the right amount, evenly.
My next bronzer is the
Too Faced Milk Chocolate Soleil Bronzer
and well, this is the best smelling one - chocolate heaven. I really like the tone of this, it's warm but not too much, it's pigmented but not too much, and I think it's really great that it has different varieties so you can choose the right shade for you.
My last two are my absolute favourites. First is the high end one, the
Charlotte Tilbury FilmStar Bronze & Glow
, now I love this one to death, I've put quite the dent in it but it's still going strong. It also has a beautiful highlight, but the bronzer is the most used. This is a unique bronzer, because it's purpose was to be used for sculpting out the skin, and although it does work as a great contour, it can be quite warm so I love to use it all over the cheeks and to sculpt and it is basically a sweep and go kind of product. There's not too much thought or technique that goes into using this product because it just looks great however it's used. It creates the most beautiful bronze goddess kind of look though, especially when using the highlight from the palette too.
My second favourite is
The Body Shop Honey Bronzer
, now this one is incredibly versatile as these are designed for people with very fair skin. This is shade 01 which is the lightest and it is a natural bronze, not too intense or pigmented but it has the perfect texture, finish, it is velvety soft on the skin and even the darkest shade isn't particularly dark, and for fair skin, that is so hard to come by. I love this bronzer, and I stopped using it for a while as I was using other things but since coming back to it, it's been basically all I have used. Plus, it's affordable which is always a great thing no matter what product it is. This bronzer is the one I recommend to fair skin tones, people on a budget, or that are just getting into makeup, the tone and texture of this makes it suitable for any cool warm or neutral tone and has lot's of other shades just in case 01 isn't enough for you.
Before I really got into makeup, I never really understood the reason for using bronzer, but since trying out all these different types, brands, shades, formulas etc. I've realised that they're not too make you look orange or like you have a tan, they're to sculpt and warm up the skin, and to add some life to your face, that's my reason for using them on the daily anyway.
**WHAT'S OUR FAVOURITE BRONZER?**