Beauty, Beauty Box, Beauty Boxes, Birchbox, Birchbox VS Glossybox, Glossybox, Hair, Hair Care, Makeup Tools, Monthly Subscription, Skin, Skincare, Subscription Services, tools
Birchbox VS Glossybox: May 2016
08:00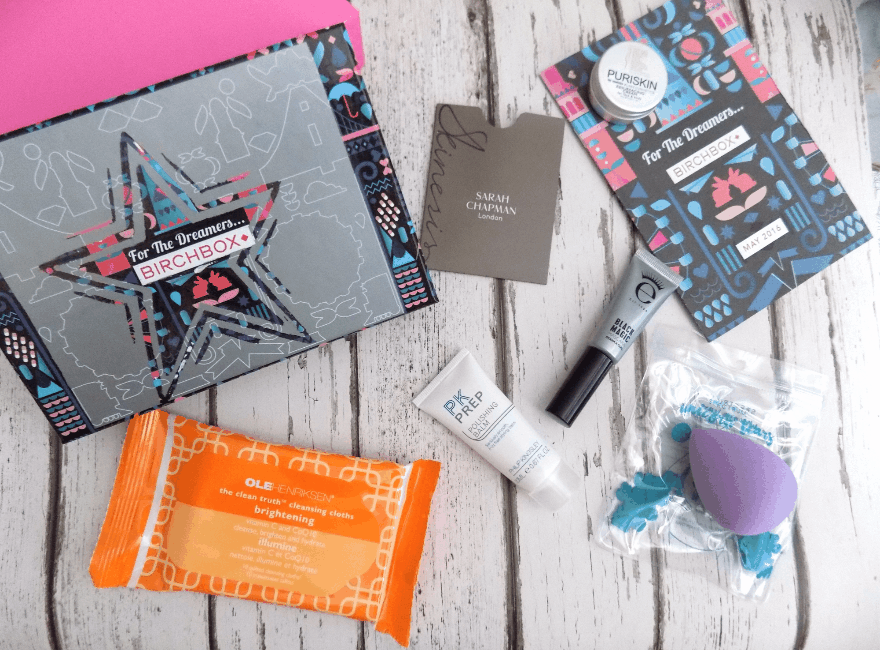 It's Birchbox VS Glossybox again, May 2016 Edition. I first of all wanted to apologise for not uploading Sunday and Monday, I had a very busy weekend as it was my birthday and I didn't have time to schedule this post for Monday when I planned on it going up so this is a couple days late, but I hope you like it anyway. This post always goes down really well so I hope this month is no exception. Enjoy...


BIRCHBOX
This months Birchbox is an interesting one, the theme is For The Dreamers and the actual box itself is pretty cool as it has a silver scratch off coating, so I took the end of a spoon and scratched away to see the pattern underneath. It's a very unique and cool idea and I had a lot of fun doing it. Plus there's a chance to win a dream holiday which I am in much need of right now.
1. SPECTRUM COLLECTIONS Unicorn Tears Wonder Sponge £4.99 * FULL SIZE
Spectrum Collections Brushes
have been very popular recently and for good reason, they are an incredible quality for such an affordable price, but like all brush companies have been doing, they have brought out an alternative to the
Beauty Blender
. Birchbox actually contacted their subscribers to ask what colour we wanted to receive in May's box so I picked the Lilac, although there is a pink one too. I have to admit this is a lot harder than the BB. I rinsed them both and tried to use the Spectrum one but it was just too dense, didn't have any of the lightweight spongey-ness to it like the BB so I will have to keep trying and see if I can make it work, but so far it's a miss.


2. EYEKO Black Magic Mascara £18
I received a mascara in this month's Glossybox too but mascaras are always great to try and don't last particularly long and with sample size I don't tend to waste much product. The brush on this actually looks really cool so I am really looking forward to giving this one a try. I hope it can thicken up my lashes and hold a curl so I will have to see how I get on with this.
3. PHILIP KINGSLEY PK Prep Polishing Balm £18.50
When I saw the word polishing in the name I thought it was an exfoliator but this is actually a balm that you apply through the mid lengths and ends of your hair to give a shiny, sleek look and it has Vitamin A and ProVitamin B5 to nourish the hair too. I have a lot of hair products thanks to these subscription services but I will be sure to give this a try as I like a smooth, nourished finish like I'm sure a lot of people do.
4. OLEHENRIKSON The Clean Truth Cleansing Cloths £12 (for 30 wipes) 10 in pack shown
I've heard quite a lot about these makeup wipes but being £12 for a pack of 30 it's never really appealed to me to purchase, but these are a travel size pack which is great for travelling or putting in your beach or pool bag. These are packed full of Vitamin C so they not only cleanse but brighten and firm the skin too. I'm not a massive fan of makeup remover wipes but as I have heard so much about these I am sure I will be giving them a go if I'm feeling super lazy as I love the brightening properties too.


5. PURISKIN Resurfacing Cream £13.99
This is a multi-tasker in your skincare routine, whether you have dry, flakey skin, or some scarring from previous breakouts or sun spots, or if you're battling acne or breakouts now, this is a great product to really help soothe your complexion, with it's Chamomile it strengthens and renews damaged cells and delivers hydration. This sounds like a great product and another travel friendly multi-tasker for those bad skin days.
6. SARAH CHAPMAN Skinesis Spot SOS Stickers £22
These were included as a little something extra in Mays Birchbox. Sarah Chapman is a luxury skincare brand so I was very surprised to see their name in here but these are something which are pretty fairly new to the market (I believe) as they're little stickers which you apply onto a blemish and with it's salicylic acid and Vitamin C, it unclogs pores, diminishes breakouts and reduces redness, this is the perfect skin pick me up to put on before bed, or they're discreet enough to wear through the day if needed. These are a great little trick and I have received something similar from another brand in a subscription service and to be honest they didn't do a huge amount so I will report back with my findings on these.
That's it for May's Birchbox, on to this months Glossybox...
GLOSSYBOX

The Glossybox theme this month is Glossy Getaways and there were 4 different boxes created, London, New York, Paris and Berlin, - I think this is the Berlin box? - and the idea is to have all your beauty must haves ready to pack if you have any city breaks or holidays coming up so your skin stays protected, hydrated and healthy whilst seeing the sights.


1. CETAPHIL Gentle Cleanser £8.99
I've heard a lot about this little guy but never actually tried it. It's a very gentle, basic cleanser which is supposed to be good for taking off makeup and getting rid of dirt and grime from the day so I will be giving this a try. It's a good one to use on a cleansing brush or Konjac Sponge. This is a teeny mini size so this will be going in my travel bag but it looks like a clear gel and it feels very nice on the skin so I will try this out a bit more and get back to you if I end up really liking it.

2. ABSOLUTE NEW YORK Velvet Lippie £4.93 *FULL SIZE
Liquid lipsticks are all the rage right now so I am glad they are keeping up with current trends. This is a very mousse-y formula, that dries down quite matte when swatched but not sure how it will do on the lips if it will dry them out too much? But it does say it's a buttery lip cream so I'll see how I get on with it. Not quite my typical shade although could probably mix it with something else so I can wear it.
3. HAWAIIAN TROPIC Satin Protection SPF30 £13.99
This is the perfect product to include in this months box as it's been super hot here in the UK. I haven't tried any sun protection from this brand before but I have heard good things. This is a great little size (100ml) to keep in my handbag, or in a beach bag or car or something. This smells incredible as it has a really nice tropical fragrance to it, and it has Vitamins C and E so it's moisturising the skin as well as protecting it. This is the Ultra Radiance one so it leaves a nice radiant finish to the skin too which is also good, so I guess it can be used on the face too, (Do they do a face SPF) - although it is oil free and non greasy so I'm pretty sure you can use it as a face SPF to top up during the day or something? It's also water resistant so great for at the beach or pool. I'm looking forward to trying this out as I just love the scent of it to be honest, the fact it protects my skin from the sun is a plus but the scent is amazing and I would happily use this as body lotion all year round.
Purchase from hawaiintropicshop.co.uk (*or sold in drugstores & supermarkets)
4. BEE GOOD YOUTH Enhancing Plump & Firm Moisturiser £23.50 Purchase from beegood.co.uk
I'm not too fussed about moisturisers like this. I may have turned 24 on Sunday 8th May but that doesn't mean I am thinking too specifically on anti-ageing just yet. But I'm sure it will be moisturising and will be good for any dry skin patches or will go in my travel bag.

5. REVLON Ultimate All-In-One Mascara £9.99 *FULL SIZE
This is the product we got to choose for this months box. Revlon released 5 different mascaras a few months ago and Glossybox asked us to pick which one we would like for our May box. It's always great when they allow you to choose what type of product, what colour etc. I was intrigued by this brush so I will definitely be giving this a try this week.
THE WINNER?
This month I think both boxes were pretty good, there's a couple products in each that I am really looking forward to trying, so Birchbox has the Eyeko Mascara, OleHenrikson Makeup Wipes, along with the hair product from Philip Kingsley and the Resurfacing Cream sounds pretty good. For Glossybox the Revlon Mascara and the Hawaiin Tropic SPF are what I am really looking forward to but the Cetaphil Cleanser and the Liquid Lipstick are close seconds. I have to say I don't think I have a favourite this month. Both boxes were equally good, I mean Glossybox gave me popcorn so that could be swayed towards them but then the box for Birchbox was really innovative and just looked amazing so it's a tie this month. Nice work to both the Glossybox and the Birchbox teams. I can't wait for June's surprises.
GLOSSY OFFERS:
1. Get 20& off any Hawaiian Tropic purchase using the code GLOSSYSUN at hawaiiantropicshop.co.uk- Valid from 06.05.16 - 10.06.161
2. Use code MAYGLOSS to save £5 when spending £15 (excluding delivery) or more at beegood.co.uk - Valid until 30.03.16 and cannot be used in conjunction with any other promotions.
3. Enjoy 3 products for the price of 2 and also save £2 on Revlon NEW Ultra HD Matte Lip Colours at selected Boots stores & online - Valid from 11.05.16 - 08.06.16

**HAVE YOU TRIED ANY OF THE PRODUCTS MENTIONED?**
* Buy One Get One Half Price on suncare in Boots