A Feature, Beauty, Birchbox, Body Care, Glossybox, Hair, Makeup, Monthly Subscription, Monthly Subscription Box, Nail Tools, Nails, Skin, Skincare
Birchbox VS Glossybox: April 2016
08:00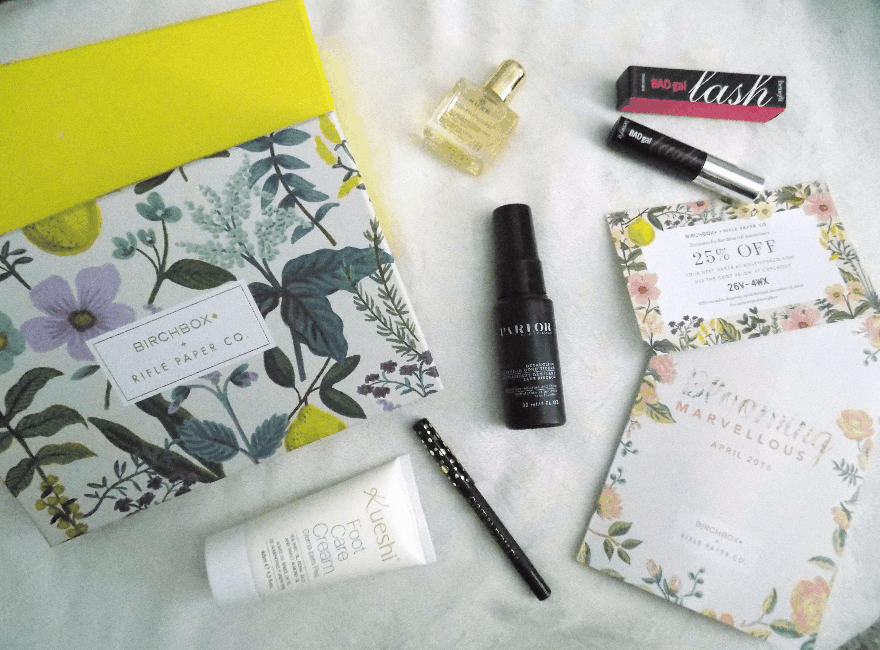 Today is all about subscription boxes, and as last months setup went down so well I thought I would do it again this week. Here is where I put the beauty boxes head to head to see which when is bringing it when it comes to their contents. Here's April's boxes...
BIRCHBOX
Birchbox
teamed up with
Rifle Paper Co.
for this months theme
Blooming Marvelous
. Birchbox subscribers got the opportunity to choose which box design they received this month, as well as an option to upgrade the box to include a
Rifle Paper Co.
notebook for an additional £4 (I didn't opt for that). This beauty packed edition is to get you feeling bright and breezy through the April showers and to make sure you're feeling beautiful even in this miserable weather. Well, if the design of the box is anything to go by, they're certainly doing a great job so far. Here's what's inside...
Benefit BADgal Lash Mascara £17.50
This is an ultra dark mascara with a super fat brush to really amp up the volume in your lashes. The other mascaras from Benefit that I've tried, I've ended up really liking so I hope this will be the same as I love my lashes to be nice and thick and have lot's of volume.
Cynthia Rowley Beauty Eyeliner in Black £11
I was quite disappointed to see this in this months Birchbox, as it's been in one before and it's exactly the same colour, formula etc. I don't know why Birchbox has been putting in duplicates but a black eyeliner is always a good thing to have, especially when it's as creamy and black as this one is.
NUXE Huile Prodigieusen from £17
I've never tried much from Nuxe apart from their infamous lip balm and this is multi-purpose oil with a blend of 6 essential oils, including sweet almond, hazelnut and macadamia) as well as Vitamin E and reparative plant oils. It can be used on face, body or hair to add some nourishment. It's a great travel size and I am looking forward to try this as it's one of the brands infamous, best selling products.
Parlor by Jeff Chastain Detangling Leave-In Conditioner £17
I love a good leave-in conditioner and this sounds right up my street as it has detangling properties which is something I have a lot of difficulty with when washing my hair. There's sweet almond oil and vitamin B5 to deliver soft and sleek hair with heat protection in their too which is always good. I have used this a couple times this week and it works really well. It doesn't smell as good as my all time favourite Beauty Protector Leave In Detangling Spray which is £16, this one is still really good and as I have ran out of my fave, this has been great at detangling my hair and I've definitely noticed a difference with how shiny my hair is this week.
Kueshi Foot Care Cream £12
I believe this brand has been included in the box before, but this foot cream isn't something I've tried before. I have actually given this to my boyfriend Ben to try out as he is suffering with dry feet due to his job which is standing and walking around for 10 hours every day. Another product in the box which contains sweet almond oil as well as royal jelly to soothe and soften the skin, but also tea tree oil to calm and relieve for instant happy feet, (yes, I stole this part from the leaflet Birchbox included, it was too cute not to add in somewhere.

GLOSSYBOX
The theme for the April Glossybox is
Spring Preening
, which is basically all about sprucing up your beauty regimes in time for Spring.
Glossybox
sent out an email to their subscribers for them to pick which
Revlon Mascara
they want in May's box so make sure you've chosen yours. But on to what's in Aprils box...
Essence Mosaic Compact Powder £3
Essence
aren't widely available in the UK, I know Wilkos sells their products but not sure of anywhere else. It's one of the cheapest brands from the drugstore so it's always great to try them out and see if their are any hidden gems. This is a mosaic bronzing illuminating type product. It has shimmer in it so you can't use it for contouring and sculpting the face and this one is very light so you couldn't use it as a highlighter if you have fair skin. It's meant to give you a sun-kissed glow and if you use a bigger cheek brush, you can sweep it over the high points of your face as well as where the sun naturally hits for a soft, bronze glow. I have to admit, the shimmer is quite big and chunky so I will have to play around with it a little.
Leighton Denny Expert Nails Miracle Mist £12
I've tried these kinds of sprays before which dry your nails in seconds with a simple spray. I have tried the
Elegant Touch
which I believe has also been in a subscription box, and a
Superdrug
own one, but I have to say I've never been that impressed so I will give this a try but I prefer
Seche Vite
.
Studio 10 Brow Lift Perfecting £22
This product really excited me as not only is it a brow product, I pretty pricey one I may add, every pencil sold, another one goes to the
Look Good Feel Better
charity which you all know I am a massive fan of and use their brushes on a regular basis. I'm not keen on the "lifting" pencil as it's quite a dark creamy yellow shade which isn't a good highlight colour for me, but the other side is quite a neutral toned taupe brown which I can imagine works great for both lighter and darker brows. It's quite hard so I will have to see how I get on with it but I am a massive brow fan so can't wait to try this out.
STYLondon Temporary Henna Tattoos £5.99
I'm not that fussed about receiving stuff like this. These are temporary henna tattoos and although they would be great for a festival or something, they're not really my cup of tea so these will probably be going to a friend.
The Body Shop Oils of Life Intensely Revitalising Facial Oil £28
The other product I was really excited about. I have been meaning to check out the
Oils of Life
range from
The Body Shop
but it's a top price line so it's much more expensive than the regular products from the brand. There's a whole range of different products which has some incredible oils which are great for your skin. This is a facial oil, which has 3 restorative oils which you massage into the skin for a nourished and radiant complexion. It's a diddy little sample size but I will give it a go. If I like it and I pick other products up from the range, I will definitely let you know how I got on.
The Winner?
I think they both did a great job again this month, my favourite is probably Birchbox as I am really excited for the Leave in Spray, The Nuxe oil and the Benefit Bad Gal Lash Mascara. But I am looking forward to trying the The Body Shop Oil and the Brow Pencil so Birchbox won it this week. I will let you know what I think of these products in faves posts etc.
WHAT DID YOU GET IN THIS MONTHS BEAUTY BOXES? HAVE YOU TRIED OUT ANY OF THESE PRODUCTS?