A Feature, Beauty, Beauty Box, Beauty Box Show Down, Birchbox, Glossybox, Glossybox VS Birchbox, Hair, Hair Care, Makeup, March, Monthly Subscription Box, Skin, Skincare, Subscription Box
Birchbox VS Glossybox: March 2016
08:00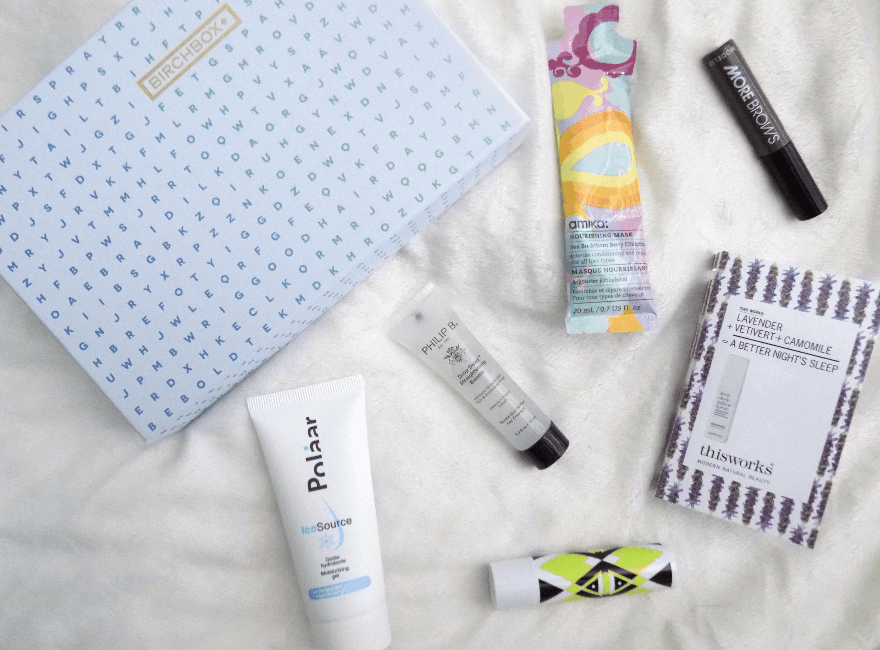 This month I thought I would do something slightly different and squish the March Glossybox with the Birchbox and do a battle of the boxes type deal. I thought I would play them off against each other to see which is the best box this month. If you would like me to continue this style for the subscription boxes in following months then please do let me know.
BIRCHBOX
The theme for March's
Birchbox
is
Word Up!
which is a beauty-related word search designed box to really shout that the lover people over at BB HQ are here to help YOU find your ultimate beauty products. So whether you're a beauty geek like myself, or a beauty novice, there's something for everyone. Let's crack on and see what's inside.
ARROW BOOST COLOUR ENHANCING LIP BALM £11 (full size): Arrow is a new paraben fee, cruelty free, vegan brand from Birchbox - the second new brand for 2016 - and this lip balm is designed to adjust to your own PH to create a unique colour to you. I don't rate the moisturising properties of this lip balm on first try (I will test more and update this as I see fit), it is more for the hint of colour but things like this are always a cool concept and great to have in your bag for lip emergencies. But for £11, I think that's a bit much when Barry M have something similar that costs less than half the price? I'll give this one a try though, and will check out some of the other products from the brand.
MODEL CO MORE BROWS £13 (full size): So this one is bittersweet because I've received it in a box before and I am still using the original one, but I do really love the product. So I am glad I have a back up but I don't like getting duplicate products in boxes.
PHILIP B DEAD STRAIGHTENING BAUM £20: This is a silicone-free treatment which you apply to damp hair and it will give you a frizz-free straight 'do whilst shortening blow drying time. This looks like a nice product and something I could do with in my hair routine for when I want to rock the straight hair look.
POLAAR ICE SOURCE MOISTURISING GEL £25.90: I've never heard of this brand before, but I do really like the sound of what this product does and when feeling it on my hand, it feels perfect for the Summer when it's hot outside and light moisturisers are a must. This is a light-weight, water-packed moisturiser which uses the natural benefits of glacier water to hydrate, cool and mattify. Which means if you're oily, dehydrated or normal, this is a great product for you, it specifically says for combination to oily, but as a light moisturiser or makeup primer, I don't see why it can't work for all skin types. They also say it's a great base for makeup and although this isn't full size, it's a pretty decent sample and will be perfect for travelling too. Although the full size is very pricey so I hope this works miracles for the price tag.
AMIKA NOURISHING MASK £19.99: I'm not keen on hair products as I end up not really using them or not having enough to get a good feel for the product but this is a intensely hydrating and completely natural hair treatment to seal split ends and fight dryness, by using sea buckthorn berry and jojoba oil to soften and repair damaged hair. Sounds great and another great size for travelling. Although it's pretty expensive so it should be pretty good.
THIS WORKS PILLOW SPRAY £16.00: I have used this pillow spray before as I got it in a holiday gift set, but I never purchased the full size as I didn't see any difference in my sleep pattern or how long it takes for me to get to sleep. I have to admit I do take sleeping tablets and pain killers because of my hip and back so I guess it's not really fair to judge it against me, however it's a true princess product, makes your pillows smell nice and it is relaxing so I will use this. This Works says it's the perfect way to help you catch those all-important Zs so hey, if you can get a mini size like this, it's worth a shot. Plus it is also great if you're a nervous traveler/flier like myself. I've only been on a few flights but taking off and landing are by far the worst parts so this would be great to calm your nerves. Here's hoping I can put that to the test this year and actually go on a holiday, who knows.


Birchbox have some interesting products and considering the theme, I am really pleased with the products they included - apart from the duplicate, duplicates are a no go for me, but the other products will come in handy and who doesn't like a good old hair mask. The moisturising gel from Polaar will be great for the warmer months to get rid of shine, and the This Works Deep Sleep Pillow Spray will take pride of place on my bedside table (if I can find room). Plus, the lip balm looks like a really cool concept and I have tried it out a little and it gives a really nice pink-y colour which looks natural yet juicy almost, so we'll see how this goes. Overall, I decent box, not the best but decent.



Let's see how
Glossybox
did this month...
GLOSSYBOX
This weeks Glossybox theme is Get Glowing, which is my perfect box so I am really excited about what's inside. The Glossy Girls have brought a box full of glow giving products to get over the dull-ness the winter brought down on us. In other words, Let's Get Glowing... (I just couldn't resist)
LUXIE ROSE GOLD LARGE ANGLED FACE BRUSH 504: £10.42 - Starting off with the most exciting thing is this beautiful angled brush, this is from the brand Luxie which isn't a brand I've tried before and this brush feels so soft but is such an incredible price, similar to Real Techniques so I definitely want to try more of their brushes. This one is going to be great for contouring, bronzing and applying blush so I can't wait to get using this. Have you tried anything from Luxie before?
OLAY REGENERIST LUMINOUS SKIN TONE PERFECTING CREAM: £29.99 - Olay isn't a brand I have tried much from either, but this product is said to fade the look of discolouration and dark spots by hydrating, exfoliating and smoothing the skin. This is a great travel size and although it's pretty pricey, it's not as bad as some of the skincare products I use like GlamGlow Masks or something.
HEY HONEY GOOD MORNING HONEY SILK FACIAL SERUM: £28.81 - I like a good serum in my skincare routine and this is a light, luxurious serum which replenishes and protects the skin and leaving a glowing complexion. I am wanting all of those things in my morning skincare so I will definitely be giving this a go.
417 CATHARIS VITAMIN MINERAL SHAMPOO & CONDITIONER: £16.89 each - Finally, they seem to have listened to their consumers and put in a shampoo and a conditioner. At last. Getting just one or the other is pointless, as I along with many others like to try out a shampoo and conditioner from the same range. But anyway, this hair care duo is a combination of dead sea moisture balancing minerals, essential oils and energising vitamins which hydrate your hair whilst also giving a beautiful shine. This sounds great and I can't wait to give these a try. These will be going in my travel bag for when I stay at my boyfriends house.
COLLECTION SPEEDY HIGHLIGHTER: £3.99 - I was quite surprised to see this in here actually as I didn't think this brand was with Glossybox, but every time I go into a store which sells Collection, I pick it up, swatch it and then put it back, so I am glad I have this now. I love the colour of this, I like that it's not super glittery like you would expect it to be, but it's also a really nice consistency. Collection are bringing it with their products recently, they seem to have really upped their game and I am impressed. I highly recommend checking out the brand not just this highlighter stick.
I really like the products in this months
Glossybox
, my fave is the
Luxie Brush
for sure, so I'm certain you will see it again soon, but the
Collection Highlighter Stick
is a close second because the sheen it gives is just beautiful and I can't wait to rock it. The shampoo and conditioner will go into my travel bag and so they're perfect sizes and any hair product that will give my hair a beautiful healthy shine (without looking greasy and oily) is a 10/10 in my books. The
Hey Honey Serum
and the
OLAY Skin Tone Perfecting Cream
will certainly be products I try as when trying them on the back of my hand they felt really nice
The Winner?
Overall I think that both boxes did pretty well. But I have to admit that the
Luxie Brush
,
Collection Highlighter Stick
and the skincare products won it for me. I think they're great little samples but a decent amount to give you enough to really try it out and see if you like it. Plus their results (if true) sound 100% up my street. I do like the products in this months
Birchbox
specifically the
Polaar Moisturising Gel
and the
Deep Sleep Pillow Spray
from
This Works
, but the brush, oh the brush just stole my heart.
If you have tried any of these products before, or if you have a subscription box you recommend then I would love to hear your opinions and recommendations. Plus, if you like this monthly subscription box show down then please let me know so I can either continue for next month or go back to two separate posts. Hope you enjoyed.

What do you think to this beauty box show down, who was your favourite?